FAKE WEBSITE LIST
⚠️masonflagship.store⚠️
As stated on our [Beware of Scammers!] page, this domain name is suffixed with ".store". This is a 100% fraudulent website.
⚠️The registration date of the fake website is July 31, 2021.⚠️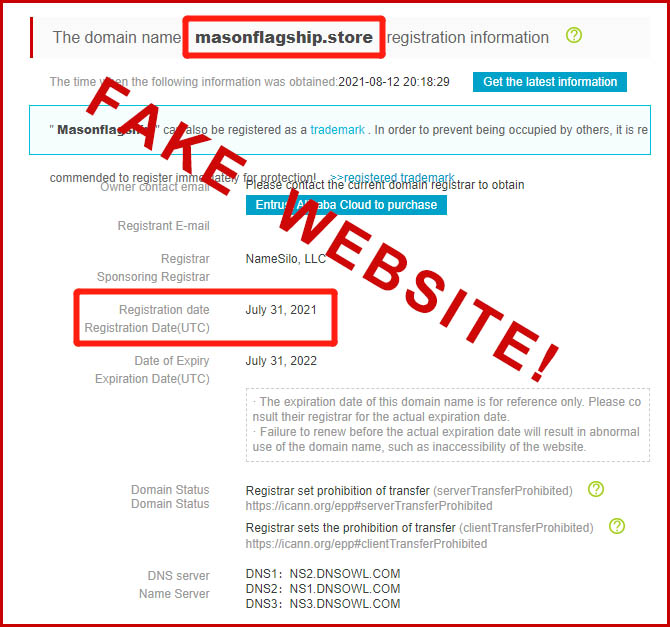 As we said, this fake website will make a short sale. After defrauding consumers' money, this website will disappear. And consumers will not receive any products.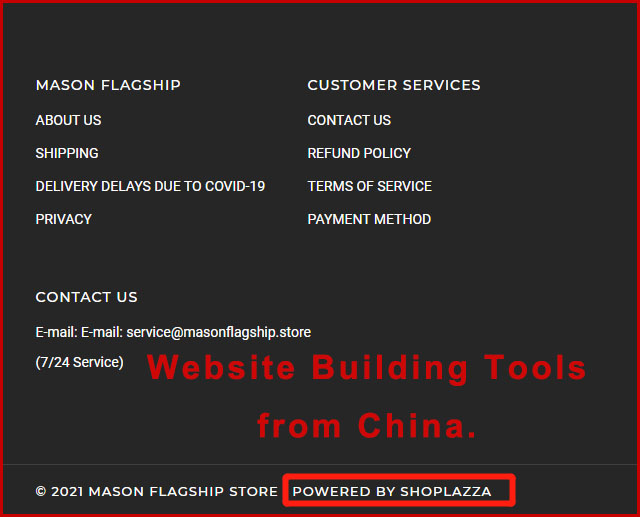 ⚠️【www.masonflagship.store】⚠️
⚠️This fake website uses a website building tool from China.⚠️

⚠️This fake website is an international scammer from China.⚠️
The LOGO of the fake website highly imitates our website, and they have no innovation and design capabilities. They try to build a website at the lowest cost, just like their fraudulent behavior.
2. ⚠️

masoncanlids.com

⚠️
Imitate our website to write a fraud-proof blog and slander our legitimate website.
We also found that these two websites are from the same Chinese fraud company.
⚠️[YoungCo Interactive Network Technology Co., Ltd.]⚠️
⚠️【www.masonflagship.store】⚠️
⚠️【www.masoncanlids.com】⚠️
We are receiving numerous reports on infringement of our patents and the registered trademark by online shopping scammers pretending to be legitimate Mason Lid sellers.
These websites appear to offer unrealistic prices for Mason Lids, but it's not much of a deal if they take your money and run. The identified scammers use social media platforms for advertizing their fake websites. After making a number of sales, the stores disappear. So do not trust a site just because you have seen it advertised or shared on social media.The best way to detect fake traders or social media online shopping scams is to find contact information-there should be customer service in online chat.
It is very difficult and expensive to make a lid that perfectly matches the size of all jar openings. Please note! Even if you receive the lids you paid for, it must be fake. The most likely outcome is that you will get nothing.
We thank you for being alert and reporting any case of suspected infringement of our intellectual property rights. We take all the reports very seriously and immediately respond with legal actions.
How to identify fake websites:
Check the supported payment methods. Fake websites generally only support PayPal payments, because credit card institutions have stricter audits and higher risks, and they rarely support credit card payments. Note: The payment method icons displayed at the bottom of some fake websites are also fake. At this time, you need to click on the payment page to view it. Websites that only use PayPal as the payment method are 100% fake.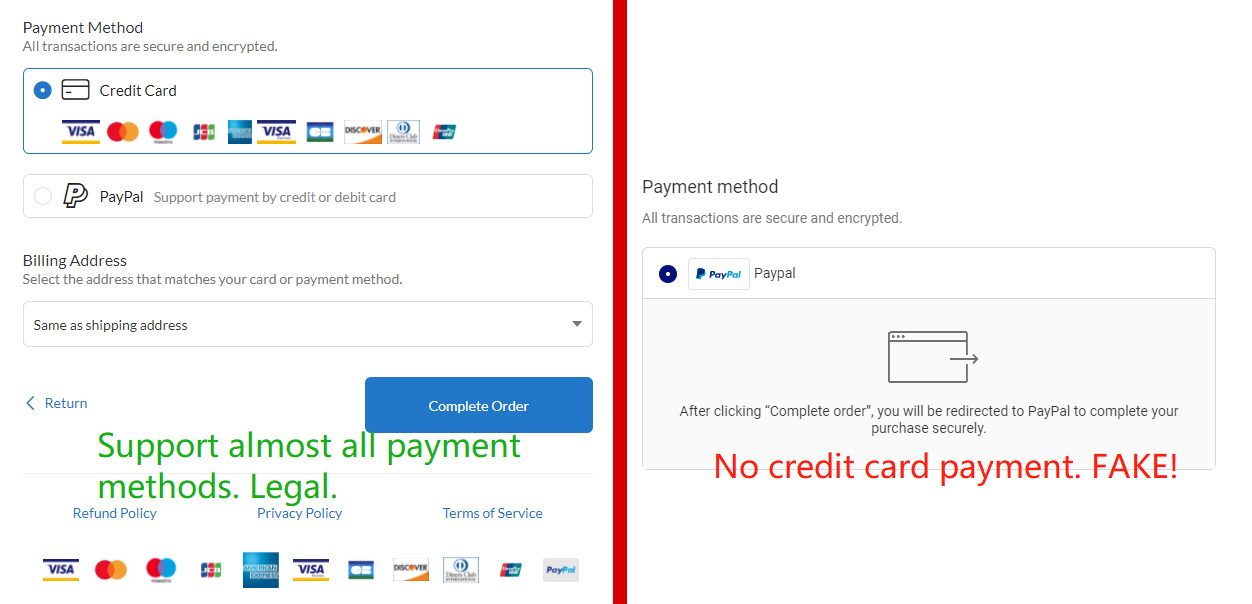 2. Check the shipping time: fake websites usually like to use "VIP Shipping (3-7 days)" to attract customers who will not distinguish between true and false to place an order. If you place an order, you will not be able to receive your goods within 3-7 days. The most likely thing is that you won't receive anything.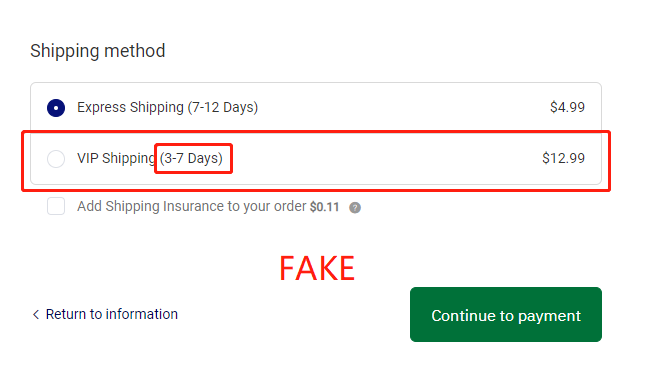 3. Look for a contact method - at least there must be a customer service who can chat online. Fake websites will not provide online chat functions.
4. Check the website domain name. Remember our official website: MasonJarLid.com
The domain name of the fake website is strange letters or wrong words.
Counterfeiters like to use a combination of "mason" + "official", but you will find strange letters or symbols before and after the domain name.
Of course, some websites that do not use ".com" as the domain name suffix are also false.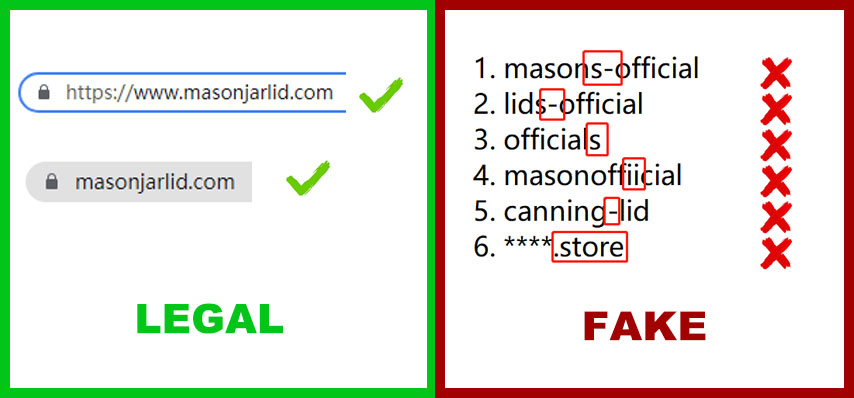 Please pay special attention to 3 very arrogant fake websites:
⚠️masoncanlids.com⚠️: Imitate our website to write a fraud-proof blog and slander our legitimate website.
⚠️masoncanninglid.com⚠️: Completely clone our website, trying to confuse consumers.
⚠️apparells.com⚠️: Copy the content of our [Beware of Scammers] page.
(If you see these 3 fake websites, do not click!)
They completely copied our website and tried to make consumers think they were the real MasonJarLid.com. And tried to slander our legitimate official website.
After the warning was invalid, we decided to file a lawsuit in the state court and send a lawyer's letter to it.
Please follow our website: MasonJarLid.com. The result of the lawsuit will be announced on this page.
We are the official of MASON, we are the benchmark of the industry. Our website is always being imitated by counterfeiters.
We always stand with consumers. We are never tired in the fight against counterfeiters.
Resolutely use legal means to crack down on plagiarists, counterfeiters, and fake websites.
NOTE: MasonJarLid.com is Not Responsible for Orders Placed on Other Websites.
If you have any information about fake websites, please contact us: [email protected]
©2021 MasonJarLid.com